From meeting with potential clients, making an offer to buy their home, planning the shopping list for the upgrades, and turning it all around for that final sale — we love all of it! See below for a gallery of before and after photos from some of our recent properties.
Shepherd Ct, Circle Pines
This three-level split-level house in a commuter suburb north of St. Paul had an unfinished lower level. Finishing the lower level greatly increased the value of the house when reselling it, and opened the house up to the larger market of buyers seeking more living space such as this new family room.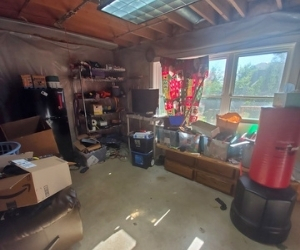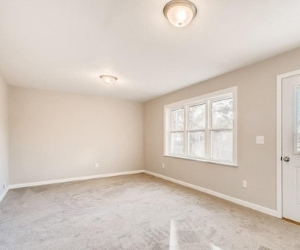 Shepherd Ct, Circle Pines
The completion of two bedrooms to the lower level gave this house four bedrooms in total. When remodeling a house keep in mind that adding bedrooms will often further increase the value and appeal to buyers in the market for a larger home suitable for a larger family.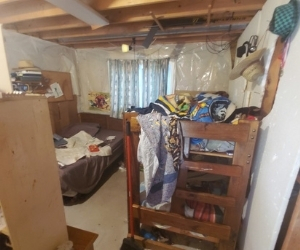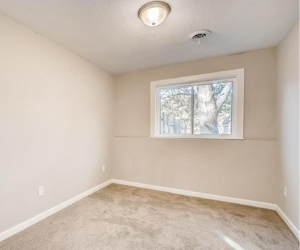 Nature will quickly take over any yard that is not being actively and adequately cared for as was the case at this property in St. Paul. A small investment in landscaping can quickly increase the curb appeal and get the neighborhood talking about the remodeling work being done, which can help generate buyer interest before the house is even completed and ready to go on the market.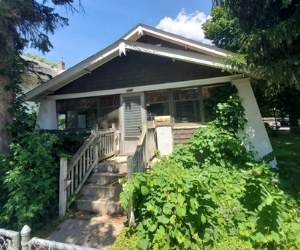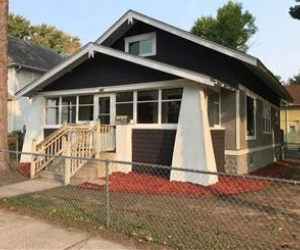 Over the years previous homeowners may have chosen to install carpet over the old hardwood flooring. Once the old carpet is removed, the original floor's condition can be evaluated and a determination made whether the hardwood floors can be refinished and that classic styling is resuscitated in an older home as was the case here.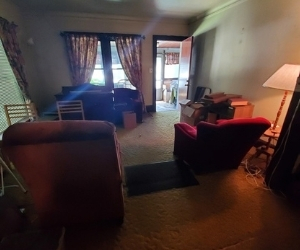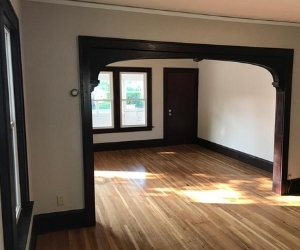 Old, dark cabinets in poor condition and a functional but inconvenient island combined to make this kitchen in a first ring St. Paul suburb feel dated, small and cramped. New white cabinets and a kitchen reconfiguration that eliminated the island opened up space while the existing stainless steel refrigerator was worth keeping.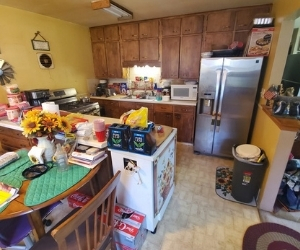 This 3/4 basement bathroom was in good condition but with unattractive lighting and an outdated paint scheme. A fresh coat of on-trend gray paint color and a new light fixture above the vanity was all that was needed to transform this space. There was no need to replace the useable vanity that was in good condition.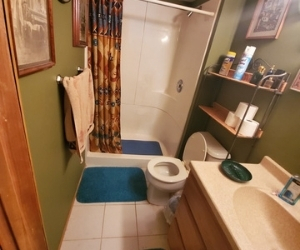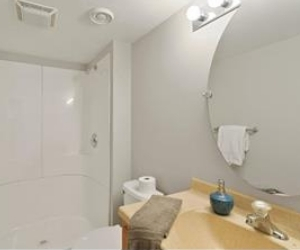 The wood cabinets in this older home were in good condition but contributed to the entire kitchen feeling drab and unwelcoming. A refreshed, bright, and light feel was accomplished by painting the cabinets white, installing a new butcher block countertop and laminate flooring. A used white oven to match the look and feel of the remodel was also brought in to better match.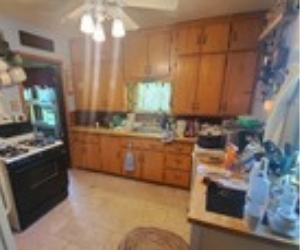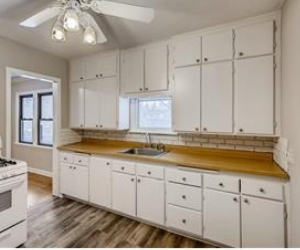 It never ceases to amaze what simply new paint and carpet will do! This upper level 1/2 story space could previously be disregarded as something in between a junk storage room and non-conforming bedroom that no one would want to sleep in. Fresh paint and carpet transformed it into space as an office, den, hobby room, or children's play area.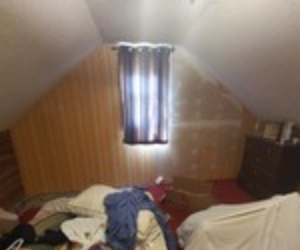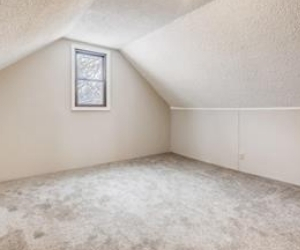 Sometimes old wood flooring and trim are in too poor of condition to be saved, as was the case with this home in St. Paul. Though wood is a classic look desired by some, many buyers respond with equal excitement to a bright, white, refreshed space rather than imperfect wood finished that was only able to be polished up. The painted wood trim and new carpet made this space into a welcoming bedroom again.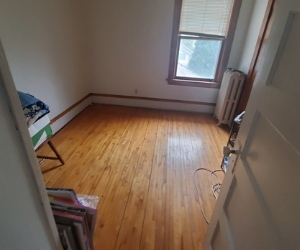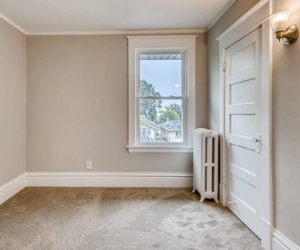 Shepherd Ct, Circle Pines
While the wood flooring in this dining room was damaged past the point where it could be refinished. The wallpaper on the lower half of the walls had a contemporary look that was able to be paired with gray paint on the upper half. Combined with new plank flooring, the combined effect has refreshed a space that's on-trend. The costs and time associated with removing the wallpaper and prepping the lower half of the wall to be painted were avoided.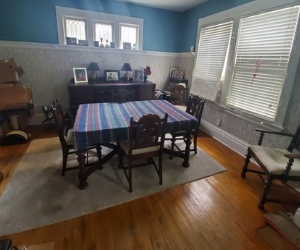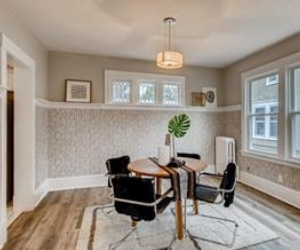 Remodeled kitchen spaces will catch the eye of many buyers including at this townhouse in a St. Paul suburb. Here a number of new or refreshed elements came together to make a much more attractive space including a new light fixture, wall paint, painted cabinets, new granite countertops, new flooring, and new appliances. Additionally, an over-the-range microwave saved a great deal of space for the end-user and presents a much more tidy space.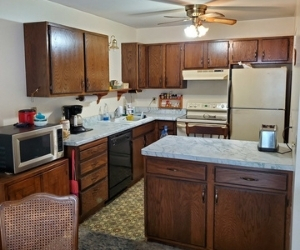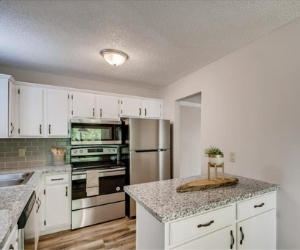 Van Buren Street NE, Fridley
One recent trend that has continued to be on-trend is the removal of any front storm doors and the painting of the main door in a color with "pop". Here a simple red paint job of the front door catches the eye and provides curb appeal to a house that may otherwise put buyers to sleep while driving up to.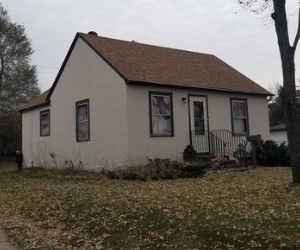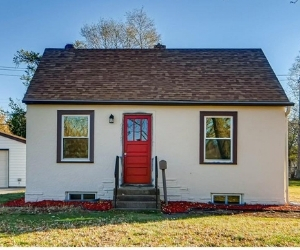 This house got the red door treatment but a new exterior paint job as well. While the previous paint job had held up ok, it gave the house a very dated, farmhouse style look that was much improved with a new on-trend color scheme which complements the door and increased the curb appeal to "Wow!" in the eyes of buyers.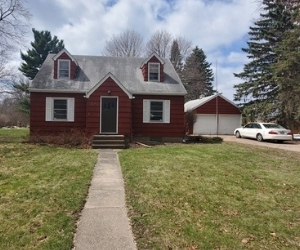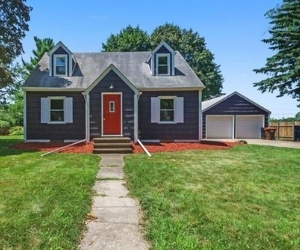 Wood paneling in the basement has been a popular finishing trend on several occasions. It has limited appeal for today's buyers, so brightening it up with a white or light grey paint is typically advisable. While it may take oil-based, stain block primer and several coats of paint the result can be a greatly transformed space that anyone would be happy to spend time in as was the case in this mid-60s era basement in St. Paul.