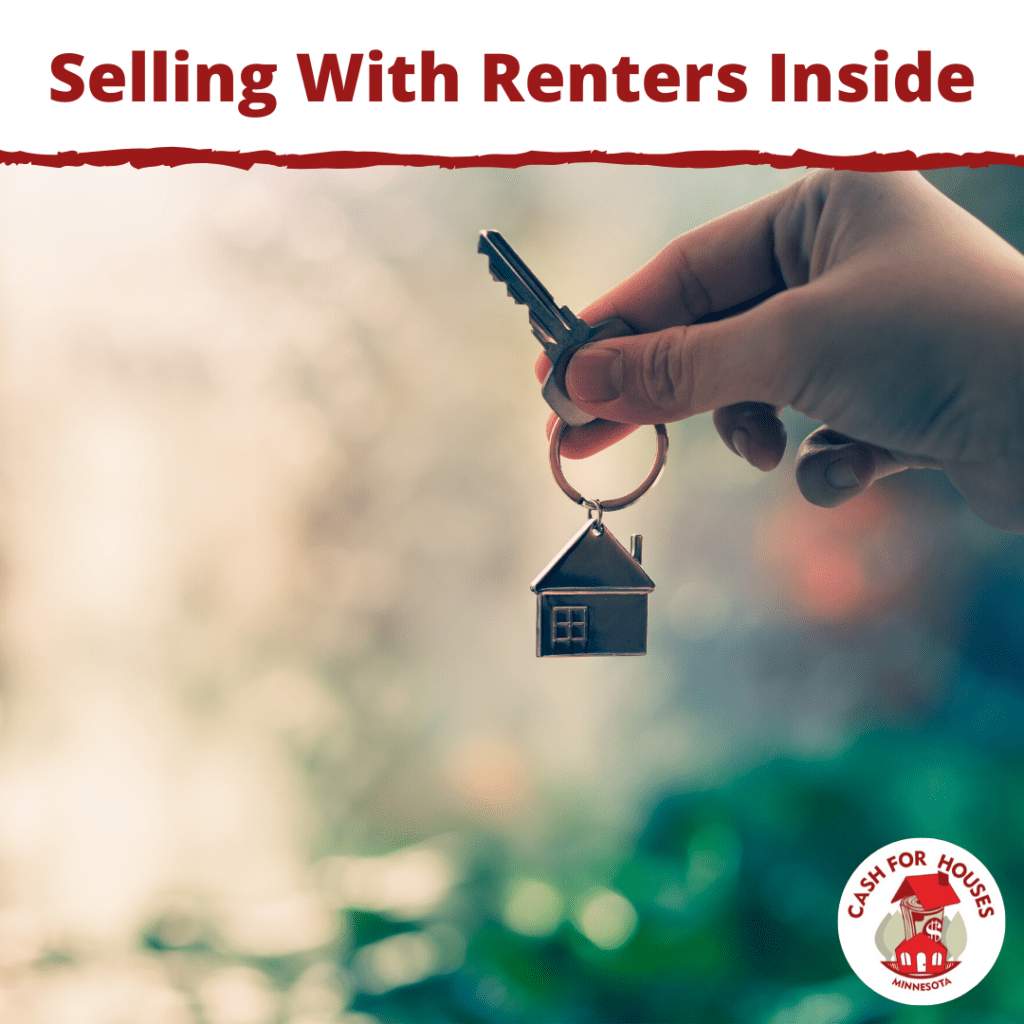 If you're selling a house with renters inside they will need to be a primary consideration in how you sell the property, and you will need to have a plan for what information you're communicating with them. Renters have rights to continue to live at the property past the point of any sale based on their leases, and during the time you may be showing the property there are rules for landlords that you must follow for notifying the tenants in advance of any showings. Communicating your intention to sell right away may seem like the best course of action, but until you have a reasonable assurance that you can sell the property at the price and in the manner desired it may be wise to wait until you've talked to some investors looking to buy or a real estate agent if you're considering listing the house. That can help avoid the risk of scaring renters into thinking they have to make their own decision to move which can leave you with a vacant property. 
Landlord & Tenants: Rights & Responsibilities: https://www.ag.state.mn.us/Consumer/Handbooks/LT/default.asp
Curious what your rental property is worth?  Give us a call anytime, 24/7 or fill out the short form on our website's
main page here.
If you need to move quick, selling your house "as is" to Cash For Houses is a fast and easy process. We offer the most convenient solution, since we buy houses "as is", we can close in a couple weeks or on your schedule. There's no need for you to do any cleaning or make any repairs. We want to buy your house just as it is today. Our offer is firm and we don't add any hidden fees.
We've helped hundreds of Minnesotan homeowners sell their house as quick and painless as possible. Not everyone thoroughly enjoys packing up their house and moving, we understand that. Not everyone has a friend with a truck either, but if you sell with us, we will be there to help take care of anything you don't want to. You can take only what you want and leave the rest for us. Selling your house "As-Is" means you don't have to do any repairs or cleaning. Selling "As-Is" is the fastest and easiest way to sell your house that may not be market ready.
We Are Minnesota's Favorite Homebuyers. We've purchased hundreds of "As Is" homes in Minnesota for almost a decade.  No matter how you're considering selling your house, Cash For Houses can help you determine the final amount of cash you'll receive at the end of the process, even if you choose not to use us! You've got nothing to lose.
We Make Selling Your House As Easy As Possible.
Give us a call at (612) 268-1059 or fill out the short form on this page to get started! No obligation and no pressure. You'll have a fair cash offer on the spot on the first visit.